Summary
Proponents of mobile payment technology tout the convenience of leaving your wallet at home. Yet, while consumers are eager to bank by phone, they're not sold on buying by phone
The editorial content below is based solely on the objective assessment of our writers and is not driven by advertising dollars. However, we may receive compensation when you click on links to products from our partners. Learn more about our advertising policy.
The content on this page is accurate as of the posting date; however, some of the offers mentioned may have expired. Please see the bank's website for the most current version of card offers; and please review our list of best credit cards, or use our CardMatch™ tool to find cards matched to your needs.
Proponents of mobile payment technology, which lets you link a payment card to an app and pay with your phone, tout the convenience of leaving your wallet at home. Yet a
March 2013 Federal Reserve survey
shows just how far apps like Square Wallet, Google Wallet and Isis have to go to make that a reality.
Just 6 percent of smartphone users have made a point-of-sale payment with their phone, while more than a third of them don't see any benefit to mobile payments — and would prefer to pay with another method. Concerns about security are the main barrier to mobile payment adoption, although they're becoming less of a concern, the survey found. Thirty-eight percent of respondents in this year's survey said they had security concerns, compared with 42 percent in 2011.
It's not that consumers are opposed for using their phones for financial purposes. Nearly half (48 percent) of smartphone users used their phones for mobile banking in the past 12 months, according to the Fed's "Consumers and Mobile Financial Services" survey, which included 2,600 participants. Forty-two percent have used their phones to comparison shop.
The graphic below shows what mobile banking users are doing with their phones.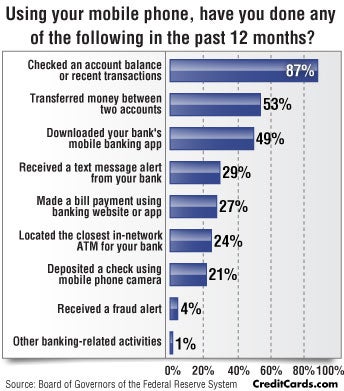 See related:
Going mobile? Link payments to credit cards for best protection
To use the graphic on your site, use the following code:
 <center><a href="http://www.creditcards.com/credit-card-news/infographic-consumers-prefer-mobile_banking-to-mobile_payments-1701.php"><img alt="CreditCards.com infographic: Consumers prefer mobile banking to mobile payments" border="0″ src="http://www.creditcards.com/credit-card-news/images/infographic-mobile-banking-4.jpg" /></a> </center>