Summary
The high cost of college has given the class of 2013 some financial perspective, a survey has found
The editorial content below is based solely on the objective assessment of our writers and is not driven by advertising dollars. However, we may receive compensation when you click on links to products from our partners. Learn more about our advertising policy.
The content on this page is accurate as of the posting date; however, some of the offers mentioned may have expired. Please see the bank's website for the most current version of card offers; and please review our list of best credit cards, or use our CardMatch™ tool to find cards matched to your needs.
survey
commissioned by Fidelity Investments found that new grads would have made different financial decisions, knowing what they know now about the cost of college.
The online survey, conducted between April 3 and April 15, polled 750 college graduates who finished school in 2011, 2012 and 2013. When it came to this year's grads, 39 percent said they didn't regret going to college, but admitted they would have made different choices if they'd known how much debt they would accumulate. A fourth of 2011 grads said the same.
The chart below shows other things the class of 2013 wishes it had done differently, from going after more scholarships, to saving more — and earlier.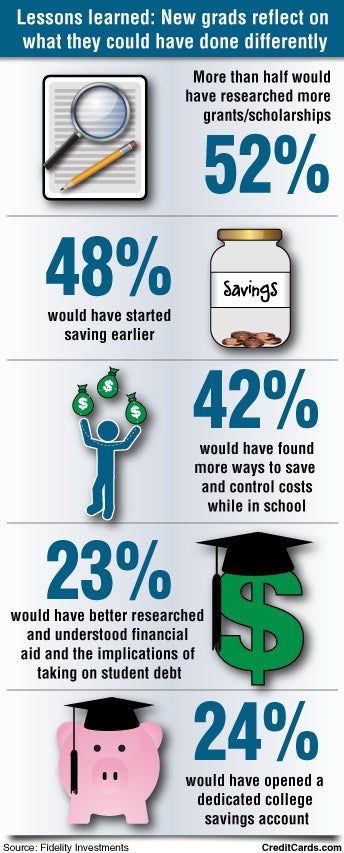 See related:
8 smart financial moves for college seniors, recent graduates
,
More infographics
To use the graphic on your site, use the following code:
 <center><a href="https://www.creditcards.com/credit-card-news/infographic-college-grads-financial-regrets-1701.php"><img alt="CreditCards.com infographic: New grads reflect on what they should have done differently" border="0″ src="https://www.creditcards.com/credit-card-news/images/infographic-college-cost.jpg" /></a> </center>
In addition to what they learned in classes, this year's crop of college graduates gained some financial wisdom, too. A May 2013