Summary
Compared to all other financial products, credit card accounts rose faster before the recession and fell harder during and after it, according to New York Federal Reserve data
The editorial content below is based solely on the objective assessment of our writers and is not driven by advertising dollars. However, we may receive compensation when you click on links to products from our partners. Learn more about our advertising policy.
The content on this page is accurate as of the posting date; however, some of the offers mentioned may have expired. Please see the bank's website for the most current version of card offers; and please review our list of best credit cards, or use our CardMatch™ tool to find cards matched to your needs.
Compared to all other loans, credit card accounts rose faster before the recession and fell harder during and after it, according to New York Federal Reserve data.The bank's November 2010 Quarterly Report on Household Debt and Credit found that looking across all lending products, about 217 million accounts were closed during the four quarters that ended Sept. 30, while 158 million accounts were opened.
"Credit cards have been the primary source of the reductions in accounts over the past two years," the report says, with the number of open accounts down 24 percent from their peak in the second quarter of 2008. Coming out of the recession, card offers are rebounding, with rewards becoming more generous, though the volume of offers is not up to pre-recession levels.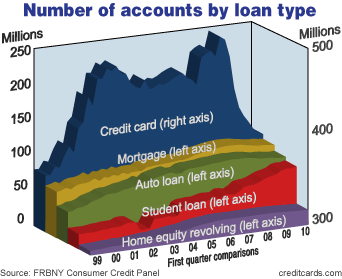 To use the graphic on your site, use the following code:
 <center><a href="https://www.creditcards.com/credit-card-news/infographic-chart-statistics-rise-fall-credit-cards-1701.php"><img alt="CreditCards.com infographic: The rise and fall of credit card accounts" border="0″ src="https://www.creditcards.com/credit-card-news/images/infographic-credit-debt-loan-type.png" /></a> </center>