Summary
In what could be a sign of economic recovery, bank card lending is on the rise, according to numbers from credit bureau Experian.
The editorial content below is based solely on the objective assessment of our writers and is not driven by advertising dollars. However, we may receive compensation when you click on links to products from our partners. Learn more about our advertising policy.
The content on this page is accurate as of the posting date; however, some of the offers mentioned may have expired. Please see the bank's website for the most current version of card offers; and please review our list of best credit cards, or use our CardMatch™ tool to find cards matched to your needs.
There's good news when it comes to credit card delinquencies, but it's not evenly spread across America, according to data on the first quarter of 2013 from credit bureau Experian.
The percent of balances 30 days or more past due decreased from the previous quarter, meaning consumers are making some headway in paying off debt, says the bureau's trends analysis released June 13. Oil-booming North Dakota leads the pack when it comes to states with the lowest delinquency rate, while real-estate-busted Nevada carries the biggest load of overdue balances.
Credit card lending is on the rise, too. Compared with the first quarter of 2012, new origination volume — how much new spending people are putting on their cards — was up by about $11 billion. That's about 20 percent above what it was at the same time in 2012, but still far below its pre-recession levels.
The chart below shows the best- and worst-performing states when it comes to credit card delinquencies.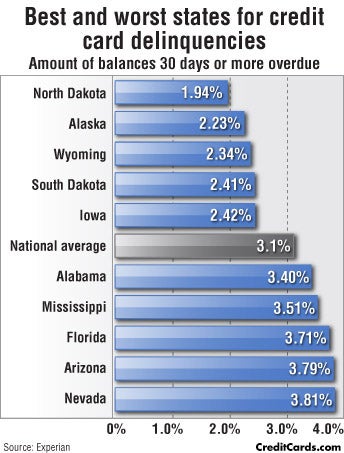 See related:
Interactive: Life cycle of a delinquent credit card account
,
More infographics
To use the graphic on your site, use the following code:
 <center><a href="https://www.creditcards.com/credit-card-news/infographic-bankcard-delinquencies-state-performance-1701.php"><img alt="CreditCards.com infographic: bankcard delinquencies" border="0″ src="https://www.creditcards.com/credit-card-news/images/infographic-card-delinquecies.jpg" /></a> </center>