Summary
Take a deep dive into the each of the five factors that make up the all-important FICO credit score. These five stories break down what you need to know to send your score soaring
The editorial content below is based solely on the objective assessment of our writers and is not driven by advertising dollars. However, we may receive compensation when you click on links to products from our partners. Learn more about our advertising policy.
The content on this page is accurate as of the posting date; however, some of the offers mentioned may have expired. Please see the bank's website for the most current version of card offers; and please review our list of best credit cards, or use our CardMatch™ tool to find cards matched to your needs.
The FICO credit score — that three-digit number that helps determine how much you can borrow and on what terms — is complex and enigmatic.
But don't panic: The good news is that it doesn't have to be a mystery, and CreditCards.com can help.
In this five-part series, Jeremy M. Simon, our resident credit scoring and reporting expert, takes an in-depth look at each of the five key components that make up your FICO credit score. Beginning with your payment history (the most important factor in your score) and continuing through to your credit mix (thought by many to be the least important of the five), we cut through the jargon and complexities to help you better understand what FICO's scoring formula means to you.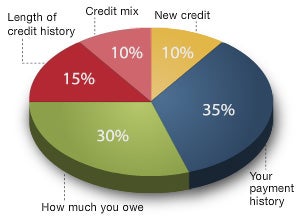 UNDERSTANDING THE FIVE COMPONENTS OF YOUR FICO SCORE
No. 1: Payment history (or how you've handled credit in the past) = 35 percent
In the calculation of your FICO credit score, no factor is more important than your payment history. That history's comprised of many complex components, but ultimately, experts say, it's pretty simple: Pay your bills on time, every time. (More…)
No. 2: Total debt (or how much you owe) = 30 percent
If you want to earn a good score, you'll need to pay attention to your amounts owed — the second-most important factor used to calculate a borrower's FICO score. (More…)
No. 3: Length of credit history (or how long you've had credit) = 15 percent
It may not be the most important factor, but if you don't have a long credit history, you can probably forget ever having a perfect score. Plus, without at least some length of credit history, you won't have a score at all. (More…)
No. 4: New credit (or how many times you've applied for credit lately) = 10 percent
Taking on too much new credit too quickly can hurt your FICO credit score. However, adding 'new credit' to an old, troubled account may actually help your score. Confused? Welcome to the complex world of the FICO credit score. (More…)
No. 5: Credit mix (or how many different types of loans you've taken out over the years) = 10 percent
Want good credit? Responsible use of a single loan can get you there. But if you want a top credit score — the kind that gets you the best rates, the highest limits and the sweetest deals — you're going to have to mix it up a bit. (More…)