Summary
The Platinum Card® from American Express is currently offering select applicants a 100,000-point sign-up bonus after spending $5,000 in the first three months of card membership through CreditCards.com's CardMatch tool.
The editorial content below is based solely on the objective assessment of our writers and is not driven by advertising dollars. However, we may receive compensation when you click on links to products from our partners. Learn more about our advertising policy.
The content on this page is accurate as of the posting date; however, some of the offers mentioned may have expired. Please see the bank's website for the most current version of card offers; and please review our list of best credit cards, or use our CardMatch™ tool to find cards matched to your needs.
If you are hoping to earn the most points possible through a sign-up bonus, you shouldn't spring for the first credit card offer that you find. Credit card issuers frequently run special offers with sign-up bonuses that are 50 to 100 percent larger than a card's public offer. Our CardMatch tool can help match you to some of these special offers.
Right now, exclusive to CardMatch, the Platinum Card® from American Express is offering select applicants a 100,000-point sign-up bonus after spending $5,000 in the first three months of card membership. This is 40,000 points more than the card's standard sign-up bonus – 60,000 points after spending $5,000 in the first three months.
To gain access to the targeted offer, you must be paired with the Platinum card through CardMatch, a tool from CreditCards.com that matches individuals with personalized credit card offers based on their credit score. After supplying some basic information about yourself, CardMatch will complete a soft credit check – which will have no impact on your credit score – to match you with special offers and pre-qualified card matches.
Read on for details on the Platinum card's 100,000-point bonus and instructions on how to use CardMatch.
100,000 bonus points
With its standard 60,000-point sign-up bonus offer, it can be difficult to squeeze enough value out of the Platinum card to justify its $550 annual fee unless you're an avid traveler. However, if you're fortunate enough to be matched with the card's 100,000-point offer, the value of the card in the first year easily covers its annual fee.
The Platinum Card® from American Express 100K offer
Rewards rate

5 points per dollar on flights booked directly with airlines or American Express Travel
5 points per dollar on prepaid hotels booked on amextravel.com
1 point per dollar on general purchases
Terms apply

Sign-up bonus

100,000 points when you spend $5,000 in the first 3 months (You must be approved for this offer in CardMatch to qualify)
Terms apply


Why use it?With its platinum status and massive list of travel perks, the Platinum card from American Express is designed for the elite traveler who finds that the card benefits outweigh the pricey $550 annual fee.See if you qualify
Estimated Yearly Rewards Value ($15,900 spend)
$829
Annual Fee
$550
Keep in mind that the 100,000-point bonus is a targeted offer. This means that if CardMatch pairs you with the Platinum card, you will either receive access to the 100,000-point offer or the 60,000-point offer.
How to use CardMatch
With so many credit cards on the market, it can be difficult to know whether you're getting the best card offer available to you. The CardMatch tool provides a great opportunity to be paired with special credit card offers, simply by providing some basic information about yourself.
To complete the process, complete the following steps.
Step 1: Visit the CardMatch landing page. There, you will be asked to enter your name, address and the last four digits of your Social Security number.
Although not required, you can enter your email address if you wish to receive information about future credit card offers and details on how to view your free credit report.
Hit "get matches."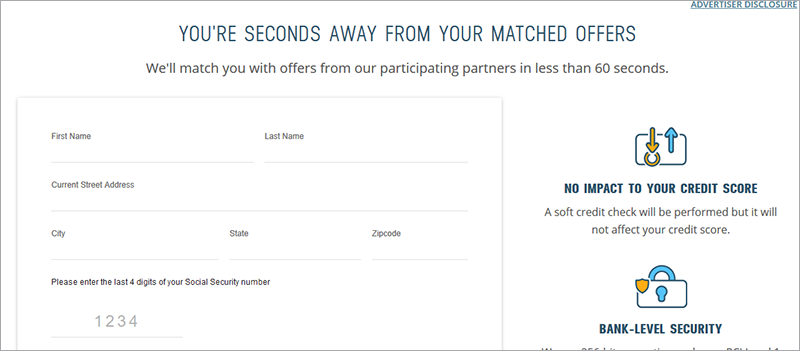 Step 2: A pop-up displaying the CardMatch program's terms and conditions will appear. After reading through the terms, accept them and hit "Submit."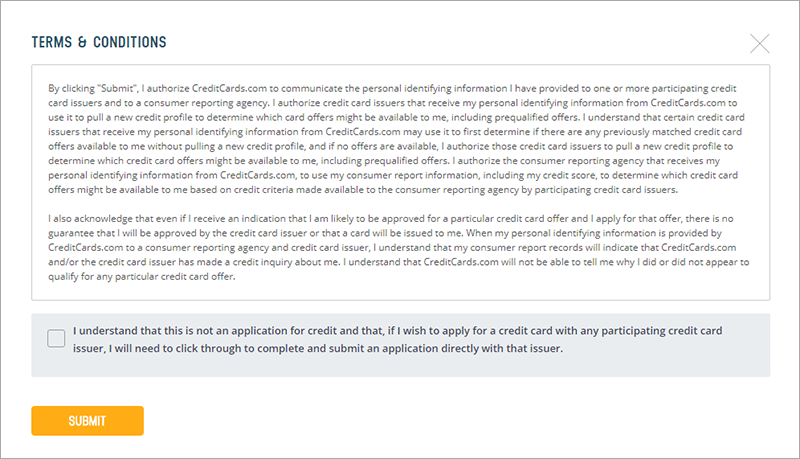 Step 3: CardMatch will begin searching for credit cards that best suit you.

Within 60 seconds, a list of credit cards that match your profile will appear.

Step 4: If you wish to apply for one of these offers, click the "Apply now" button. You will be redirected to the credit card issuer's page where you can complete the card application.
Should you use the CardMatch tool?
If you're in the market for a new credit card, we recommend that you use the CardMatch tool before applying for a card. Because CardMatch sometimes provides targeted, special offers, you could possibly receive a much larger sign-up bonus than you would if you simply applied for the card using the issuer's site. Additionally, your score will not be affected by using the tool.
Note that the cards matched to you are potential offers and not guaranteed. You must still be approved for the card by the issuer.
See related: American Express Platinum Card® review, American Express Rewards guide: The best ways to earn and use Membership Rewards points