Today, 20 percent to 50 percent of credit card accounts for the major issuers may be sold into special trusts set up by the credit card banks.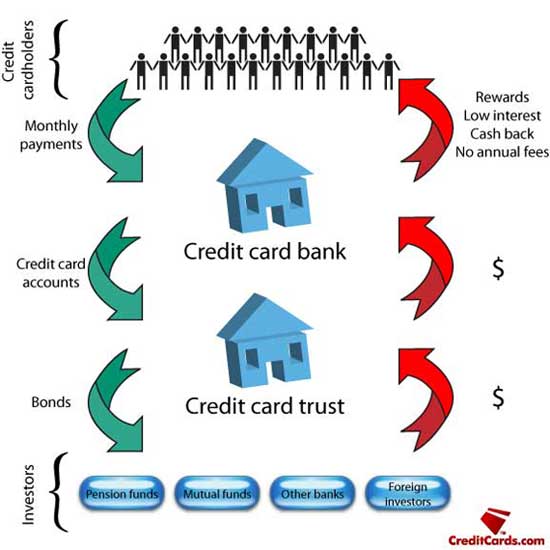 Pools of securities
Credit cardholders never realize the bank has sold their accounts. Once this happens, nothing appears differently to cardholders. If they call customer service, they are treated exactly the same as if they were account holders of the original issuing bank. However, their monthly payments are funneled to the trust rather than the bank and used to make principal and interest payments to investors.
Banks bundle or pool together millions of credit card accounts. The money owed by these cardholders is an asset that would normally sit on the bank's balance sheet as a receivable. Instead of waiting years for those cardholders to repay the money in monthly installments, the bank sells those credit card IOUs to securitized trusts, which sell an interest in the future credit card receivables to large institutional investors (pension funds, mutual funds, other banks and insurance companies).
The money (capital) a credit card issuer is able to get through securitization is used to issue additional credit cards, help fund reward programs or keep interest rates lower.
To comment on this article, write to: Editors@Creditcards.com.
See related: Are credit card securities the next financial mess?, Rising credit card delinquencies vex card securities, Treasury wants to jump start stalled credit card securities,