Summary
A fraud alert notifies lenders that they should take special precautions to verify your identity before extending credit. But it comes with limitations — and hassles.
The content on this page is accurate as of the posting date; however, some of our partner offers may have expired. Please review our list of best credit cards, or use our CardMatch™ tool to find cards matched to your needs.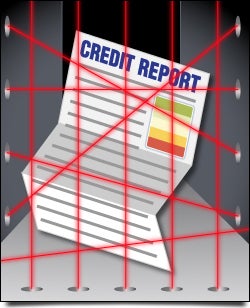 You hear about yet another data breach and fear your credit card information may be in the hands of thieves. Or you misplace your card. Last time, it turned up in the washer and so far no one's hacked your financial info. But you worry it's just a matter of time.
What to do? It may be time to consider a fraud alert.
Think of a fraud alert as a yellow flag on your credit file. It notifies lenders and others that they should take special precautions to verify your identity before extending credit, says Julie Springer, vice president at credit reporting agency TransUnion.
Other tools include a credit freeze and credit monitoring. Unlike a credit freeze, a fraud alert is free. Rather than blocking lenders from seeing your credit report altogether, it requires they go through extra steps to make sure you are who you say you are when you apply for credit.
All three credit reporting bureaus – Equifax, Experian and TransUnion – offer fraud alerts. Understanding what's involved will help you decide if they're the right tool for you.
More obstacles for fraudsters (and you)
Keep in mind that in addition to thwarting or at least slowing people with bad intentions, a fraud alert could slow you down when you want credit. Be prepared to jump through extra hoops, the credit bureaus say.
When you apply for new credit, the lender will pull your credit report. If you've got a fraud alert in place, the credit bureau requires the lender to take extra steps to verify your identity, says Experian spokeswoman Kelsey Stagner. That may mean the creditor needs to request additional authentication documentation, call a phone number you have provided in the alert, or take other actions to ensure it's really you – not an identity thief – who is applying, Stagner says.
"You've alerted them," says Maxine Sweet, Experian's president of public education. "They don't want to open a fraudulent account either because their books will take a hit on losses."
The creditor may ask you "out of wallet" questions that a stranger couldn't answer, such as, "What was your address in 2009?" and "What is your current mortgage payment?" TransUnion's Springer says. The creditor would know the answer based on information in your credit report, she says. Presumably, a fraudster would not.
Assuming all of the information provided to the credit bureau matches your record, the bureau will give the lender your credit report. But it will also notify the lender that a fraud alert is on file so that it can then take additional action if necessary.
If you're applying for new credit in person, you may be asked to provide additional forms of ID or a bill with your name and address. For applications made online, you will need to be at the phone number you provided so that the credit issuer can confirm your identity.
Even if you're applying in person, some creditors may call the phone number you gave to prove you are who you say you are. For example, if you have an extended fraud alert, Capital One representatives will call you to confirm your identity no matter how the application for credit is submitted, spokeswoman Amanda Landers says.
The three credit reporting agencies also have other systems to help credit issuers verify your identity if you have a fraud alert on your file. If the credit issuer cannot verify your identity, you may be denied credit – it's up to the credit issuer to make that decision, TransUnion's Springer says.
3 types of fraud alerts
There are three kinds of fraud alerts you can request, depending on your situation.
Initial fraud alert
If you're concerned your financial information has been or may be compromised, but don't know for sure, an initial fraud alert is probably best for you. It does not require you to prove that a breach or theft has happened or file a police report."A lot of people lose wallets, checkbooks, different items that make them worried they may be a victim," Experian's Sweet says. "Most of the time when someone steals your wallet they're not trying to steal your identity. But you could be at risk."
The initial fraud alert lasts for 90 days and can be renewed. File such an alert with one of the three credit bureaus, and that bureau will notify the other two. Initial fraud alerts will be placed on those files, too, TransUnion's Springer says. The alert entitles you to one free credit report from each bureau.
"That puts the alert out and it gives you time to look at your credit reports and determine if you really are a victim of fraud and need to file a police report," Sweet says.
Extended fraud alert
Your next step up is an extended fraud alert, Springer says. An extended fraud alert, which is also free, lasts seven years. It entitles you to two free credit reports from all three credit reporting agencies in the first year. You must send it by mail (see extended fraud alert sample letter), but you need to send it to only one of the three credit bureaus. The one you send it to is required to notify the other two.
To get this longer-term protection, you'll need proof of the threat such as a copy of a police report or identity theft report, according to the credit reporting agencies. "This time you're saying, 'I'm not just suspecting. I believe I really am a victim,'" Sweet says.
Meredith Griffanti, senior director of public relations at Equifax, notes: "Many people request extended fraud alerts in hindsight after falling victim to identity theft.
Active duty military alert
If you're in the military and deployed, all three credit reporting companies offer protection via an active duty military alert. As the name implies, this helps protect your credit and minimizes your risk of fraud and ID theft while you're deployed. It is similar to an initial fraud alert, except that it lasts one year and your name is removed from all preapproved or firm offers of credit or insurance for two years.
How to place an initial fraud alert
Make contact. Either online or by phone, contact one of the three major credit reporting agencies – Equifax, TransUnion or Experian.
You need to contact just one agency; it will relay the request to the others.
Mark your calendar. The alert stays on your report 90 days; you can renew it.
Monitor your credit. Filing a fraud alert allows you to order one free copy of your credit report from each agency.
For more information: See "Place a fraud alert" from the Federal Trade Commission.
Lifting a fraud alert
Unlike a security freeze, which you can lift by going online and using a PIN, a fraud alert takes some time to remove. At Equifax and Experian, you need to file a written request to remove a fraud alert.
"You can't do that at the last minute," Sweet says. "You can't say \u2018I'm Maxine Sweet and I have a fraud alert. Can you take it off?' You have to request it to us [in writing] with proof of identity. It takes two days to a week."
TransUnion's process is quicker. It has an online fraud alert page and a victims' assistance phone number for removing a fraud alert.
You may need more protection
Robert Siciliano, CEO of IDTheftSecurity.com, thinks fraud alerts don't do enough. Initial fraud alerts offer only temporary protection, he points out. But many people get one and think they're still protected when it expires after 90 days. Plus, Siciliano says, a fraud alert – even an extended alert – does not offer enough protection.
If you're an American, your Social [Security number] likely has been breached two or three times already … Now is the time to get a credit freeze.
Fraud alerts do not prevent third parties from looking at your credit file, Equifax's Griffanti adds. Unlike with a security freeze, lenders still have the ability to extend credit to anyone they wish.
"Over a billion records have been breached in the past decade," Siciliano says. "If you're an American, your Social [Security number] likely has been breached two or three times already. Consider yourself breached. Now is the time to get a credit freeze. Don't wait until your identity is stolen."
Although Siciliano and his family have not been ID theft victims, they have had security freezes since February 2008 when the service first became available.
Your decision depends on your finances and habits. "For example, if you travel extensively and are always using charge cards, pulling out your passport, etc., you are putting yourself in a situation where you are more likely to have your ID stolen – allowing someone to possibly take credit out in your name," says Springer. "A freeze would be a good remedy to this lifestyle, versus someone who lives in a small town and makes local merchant purchases only. Everyone's situation is different."
See related: Credit monitoring services: Pros, cons and how to pick one, Put your credit report on ice with a credit freeze, 4 ways crooks cash in on your personal and financial data
Editorial Disclaimer
The editorial content on this page is based solely on the objective assessment of our writers and is not driven by advertising dollars. It has not been provided or commissioned by the credit card issuers. However, we may receive compensation when you click on links to products from our partners.