Summary
Credit card fees, and not interest, continued to dominate card issuers' revenue in 2013.
The editorial content below is based solely on the objective assessment of our writers and is not driven by advertising dollars. However, we may receive compensation when you click on links to products from our partners. Learn more about our advertising policy.
The content on this page is accurate as of the posting date; however, some of the offers mentioned may have expired. Please see the bank's website for the most current version of card offers; and please review our list of best credit cards, or use our CardMatch™ tool to find cards matched to your needs.
R.K. Hammer
estimates.
R.K. Hammer first noted the trend in 2011, when prime and super prime card fees made up an estimated 52 percent of industry revenues. That figure increased to 55 percent in 2012, and was again at 55 percent last year. Prime and super prime cards are issued to consumers with the best credit ratings.
"The pause is temporary, I believe, and will rise again when issuers get to pricing other fees for services not presently charged for," says CEO Robert Hammer, although, he says, the increase won't be by much.
Other causes for the decline in interest income include lower outstanding card loans in the past four years, which have reduced interest earned; legislation limiting how rates may be changed; and cautious consumers, R.K. Hammer wrote.
Hammer gathers his figures throughout the sample year from a composite of client discussions, publicly released figures and observations. He notes that the fee income/interest income split varies widely by issuer and his figures are averages.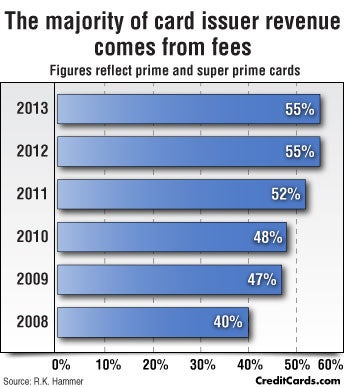 See related:Chronic late credit card payments: How bad can fines, fees get?, More infographics
To use the graphic on your site, use the following code:
 <center><a href="https://www.creditcards.com/credit-card-news/fees-not-interest-dominate-revenue-1701.php"><img alt="CreditCards.com Infographic: Card fees, not interest, dominate revenue" border="0″ src="https://www.creditcards.com/credit-card-news/images/infographic-prime-superprime.jpg" /></a> </center>
Credit card fees, and not interest, made up the majority of credit card issuers' revenue in 2013, consulting firm