Summary
The cost of using credit cards continues to rise, giving consumers yet another reason to keep their plastic in their wallets.
The content on this page is accurate as of the posting date; however, some of our partner offers may have expired. Please review our list of best credit cards, or use our CardMatch™ tool to find cards matched to your needs.
The cost of using credit cards continues to rise, giving consumers yet another reason to keep their plastic in their wallets.
CreditCards.com's Weekly Rate Report
Avg. APR
Last week
6 months ago
National average
12.02%
12.00%
11.99%
Balance transfer
10.14%
9.98%
10.28%
Low interest
10.41%
10.41%
11.13%
Business
11.41%
11.41%
16.41%
Cash back
11.56%
11.49%
12.91%
Rewards
12.10%
12.10%
11.86%
Instant approval
12.99%
12.99%
11.63%
Airline
13.31%
13.22%
11.97%
Bad credit
14.29%
14.29%
12.15%
Student
14.45%
14.45%
14.21%
Methodology: The national average credit card APR is comprised of 95 of the most popular credit cards in the country, including cards from dozens of leading U.S. issuers and representing every card category listed below. (Introductory, or teaser, rates are not included in the calculation.)
Source: CreditCards.com
Updated: 07-09-2009
That rising cost to borrow on credit cards was evidenced by the national average annual percentage rate on new credit card offers, which increased again this week to 12.02 percent from 12 percent the week earlier, according to the CreditCards.com Weekly Credit Card Rate Report.
Meanwhile, credit card balances are falling. The Federal Reserve's latest consumer credit report showed revolving debt levels continued to decline in May, as cardholders appeared hesitant to make charges, choosing instead to pay down existing balances whenever possible.
"The supply of credit has gone down and the demand for credit has gone down," says Keith Davis, research analyst with Farr, Miller and Washington in Washington, D.C.
Analysts say that consumers remain focused on reducing their debt load. On Wednesday, the Fed's monthly G.19 report on consumer credit indicated that revolving credit — a loan category comprised almost entirely of credit card debt — declined at an annualized rate of 3.7 percent in May, coming on the heels of a 11.1 percent fall in April. (Double-digit declines were reported in February and March as well.) Overall, revolving debt fell to $928 billion from a total of $931 billion in April.
The eight consecutive monthly declines in revolving credit from October 2008 to May 2009 represent the longest pullback since the report began in January 1968, according to the Fed.
Card issuers get stingier
Meanwhile, banks are less willing to extend new lines of credit to consumers. Data from credit bureau Equifax showed the opening of new credit card accounts declined 38 percent during the first four months of 2009 compared with the corresponding period the year before. Additionally, Equifax says the average credit limit on new cards fell to $4,594 this year from $4,747 in 2008.
Consumers' credit limits
are dropping
Following a large increase in 2008, the average limit on a newly issued credit card in the U.S. has fallen by more than $150 in 2009.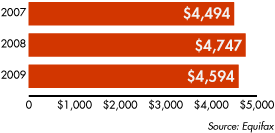 That approach is no accident. "The card companies and the banks are doing everything they can to protect their balance sheets and protect against losses," Davis says.
"To increase profitability, banks are increasing their fees and rates," Davis says.
By increasing borrowers' costs and restricting their access to credit, bank are guarding their earnings against a combination of pending regulations that seek to limit future rate hikes and an ongoing surge in late payments. Amid rising unemployment, the American Bankers Association announced that bank card delinquencies rose to 4.75 percent of all accounts in the first quarter, compared to 4.52 percent in the previous quarter. "When people lose their jobs, they can't pay their bills," ABA Chief Economist James Chessen stated in the release. Meanwhile, with the Chicago Fed president acknowledging that unemployment may continue to climb, it appears likely that the amount of late payments will rise higher.
In other words, according to Davis, "There's definitely a connection between what rates are doing and the situation that banks are in."
See related: Credit card balances keep falling, but pace slows, Fed says, Obama signs credit card reforms into law
Editorial Disclaimer
The editorial content on this page is based solely on the objective assessment of our writers and is not driven by advertising dollars. It has not been provided or commissioned by the credit card issuers. However, we may receive compensation when you click on links to products from our partners.