Summary
Our team has compiled statistics on U.S. credit card delinquencies over the years, collections, bankruptcies and much more
The editorial content below is based solely on the objective assessment of our writers and is not driven by advertising dollars. However, we may receive compensation when you click on links to products from our partners. Learn more about our advertising policy.
The content on this page is accurate as of the posting date; however, some of the offers mentioned may have expired. Please see the bank's website for the most current version of card offers; and please review our list of best credit cards, or use our CardMatch™ tool to find cards matched to your needs.
The health of the credit card industry is best measured not by the number of people with cards, but rather the number who pay their bills. Bad payment habits begin by nicking you with more fees and lower credit scores, and, in advanced cases, can lead to the loss of a vehicle or home, garnishment and bankruptcy.
Credit card defaults, after a lengthy decline, are starting to tick up slightly.
Delinquencies in bank cards rose in the third quarter of 2016, but remain near historical lows, according to the American Bankers Association's Consumer Credit Delinquency Bulletin.
Bank card delinquencies increased 26 basis points to 2.74 percent of all accounts in the third quarter, but remain well below their 15-year average of 3.68 percent. The ABA report defines a delinquency as a late payment that is 30 days or more overdue.4
The trend looks similar when examining accounts that have been overdue for three months. TransUnion's Industry Insights Report found that the credit card delinquency rate reached 1.79 percent in Q4 2016, an increase of 12.6 percent from 1.59 percent in Q4 2015. The credit card delinquency rate remains more than a full point below its peak in Q4 2009 (2.97 percent).
5
The Federal Reserve Bank of New York measures credit card delinquencies slightly differently. It looks at the percent of balances that are at least 90 days late. For the final quarter of 2016, that rate was 7.1 percent, unchanged from the previous quarter.2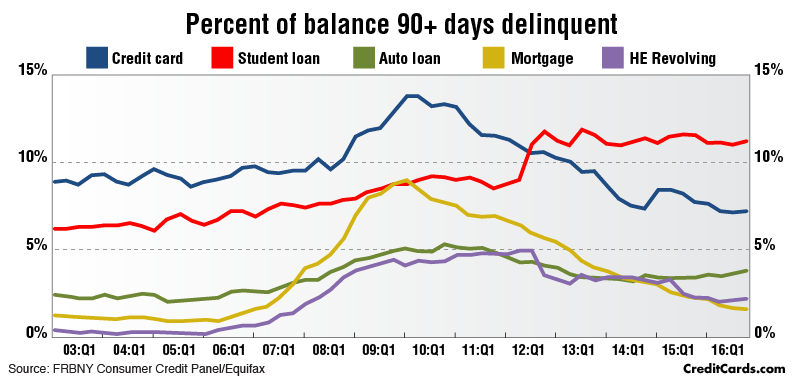 However, charge-offs, another indicator of credit risk, are up. A charge-off occurs when a card issuer gives up on collecting a particular debt. The charge-off rate on credit card loans from the top 100 banks was 3.33 percent in the fourth quarter of 2016, up from 2.92 percent the year before.6
---
Who's falling behind
Some demographic groups are more likely than others to miss bill payments. Generally, the younger the consumer group, the higher their delinquency rates, with those under 40 years old seeing a slight increase in their delinquency rates between Q3 2014 and Q3 2015.8
90+ day credit card delinquency rates for various age groups
Age range
Q3 2014
Q3 2015
Under 30
2.06%
2.34%
30-39
1.94%
2.11%
40-49
1.69%
1.77%
50-59
1.17%
1.19%
60+
0.66%
0.67%

Source: TransUnion Industry Insights Report
Perhaps it's not surprising then that among college students, 13 percent said they were "constantly or frequently stressed" about credit card payments.7 About 15 percent of college students who own a credit card said they frequently charge purchases without having the funds to pay the bill.
However, the majority of card-holding students never or rarely do this, and 63 percent say they pay their balance in full each month. Only 8 percent of students pay only the minimum each month, and less than 1 percent pay less than the minimum.9
Certain states tend to have higher delinquency rates than others, too. According to TransUnion's data from the fourth quarter of 2016, Mississippi had the highest credit card delinquency rate and Wisconsin had the lowest.5
States with highest credit card delinquency rates, Q4 2016
Mississippi
3.14%
Louisiana
2.46%
Arkansas
2.41%
Georgia
2.37%
West Virginia

2.28%

Source: TransUnion Industry Insights Report
States with lowest credit card delinquency rates, Q4 2016
Wisconsin
1.11%
Washinton
1.12%
Utah
1.14%
Minnesota
1.15%
Montana
1.19%

Source: TransUnion Industry Insights Report
---
Calling in the debts
Collection agencies work on behalf of lenders and third-party debt collectors to reclaim past-due debts. But fewer people are getting calls from collectors. In the first quarter of 2015, 13.6 percent of consumers had one or more debts in collections. That's up slightly from the fourth quarter of 2014, but lower than any other period since the fourth quarter of 2008. The average amount they owed – $1,376 – was the lowest mark since the fourth quarter of 2010.1
Some studies also show that credit card debt may not be collectors' top priority. In 2015, 35.6 percent of collection agencies reported collecting credit card debt, less than the 64.4 percent of collection agencies that collect health care debt.10
In its March 2017 report, the U.S. Consumer Financial Protection Bureau reported that debt collection made up 21 percent of all complaints received in 2016.11
---
 Sources
---
See related:Credit card statistics