Summary
In an emergency, when you have no other options, then maybe – maybe – taking a cash advance from your credit card makes sense. Otherwise, no. And by that, we mean, NO!
The content on this page is accurate as of the posting date; however, some of our partner offers may have expired. Please review our list of best credit cards, or use our CardMatch™ tool to find cards matched to your needs.
maybe
— taking a cash advance from your credit card makes sense.
That's the consensus of credit counselors and consumer advocates, who say that withdrawing cash from your credit card is usually an unwise idea because of the high fees and interest rates. A November 2013 survey by CreditCards.com of 100 top cards found that the median annual interest rate for cash advances is about 24 percent, or about 6 points higher than the interest rate on purchases.
"It's a bad way to get cash," says Linda Sherry, director of national priorities with Consumer Action, a consumer advocacy group. "All in all, we don't really see a lot of reason for it."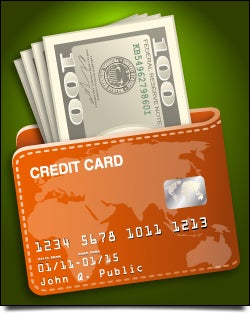 SPECIAL REPORT:
CASH ADVANCES
Credit card cash advances are among the worst ways to use a credit card, and CreditCards.com research shows how bad the damage can be.
Still, most consumer groups advocate becoming informed about how cash advances work, rather than seeking to outlaw them.
The overwhelming majority of cardholders have little use for cash advances. According to an October 2013 report by the Consumer Financial Protection Bureau, just 3.1 percent of active credit card accounts took cash advances in a three-month period at the end of 2012.
There are times when a cash advance can make sense: When you have no other option to pay for something you need, and that merchant does not accept credit cards for purchases.
We can all probably envision rare but plausible scenarios: Maybe your wife goes into labor and needs you to meet her at the hospital, but your car has broken down, you're out of cash and the taxi you hailed doesn't take credit cards but is willing to swing you by a bank (although the one with your money is on the other side of town).
Aside from emergencies, though, many people use cash advances in ways they shouldn't.
For instance, casinos are becoming more sophisticated in the ways they accept credit cards for cash advances, including, in some cases, enabling gamblers to swipe cards directly on slot machines. Gambling with money you don't have is a warning sign of a gambling addiction, says Keith Whyte, executive director of the National Council on Problem Gambling.
"Many more folks are using credit cards," he says. "The easier and quicker you can access these various accounts on the gaming floor, there is risk there."
David Jones, president of the Association of Independent Consumer Credit Counseling Agencies, says credit counselors often see people who use cash advances to obtain cash for their daily needs, such as giving cash to their kids to buy something at school. A lot of people use credit card cash advances as a form of payday loan, withdrawing a few hundred dollars to make ends meet until they receive their paycheck.
"We try to tell our clients not to use those cash advances; however, many of them do," he says. "They get to be a habit."
Jones offers the following advice on cash advances:
Use them only in true emergencies.
For instance, Jones had one client who took a cash advance to pay a speeding ticket in a town that did not accept credit cards. "That seems to make a little bit of sense," he says.

Make sure you actually need cash.
If you can charge an item on a credit card instead of using cash from a cash advance, your interest rates will probably be lower.

Repay cash advances as soon as possible.
Unlike using a credit card for purchases, withdrawing cash begins accruing interest immediately. There's no grace period. Try to pay it off before your next statement arrives.

Read the fine print

.

Understand the interest rate and fees associated with taking a cash advance. The CreditCards.com survey found that fees are typically 3 percent to 5 percent of the amount withdrawn, with a usual minimum of $10. Also, be aware that the "

convenience checks

" that come in your credit card statement usually count as cash advances.

Know your withdrawal limits, which are often lower than your usual limit for purchases.
Should you withdraw too much, you'll be hit with yet another fee.

Consider alternatives.
Instead of taking a cash advance, can you sell some items you own to raise cash, such as unused furniture? Can you hold a yard sale? Take a part-time job? Borrow money from a family member? Do some yard work for a neighbor? But don't dip into your 401(k) retirement account and don't go to a payday lender, whose rates are likely to be worse than those on a cash advance.
One of the best things people can do to avoid taking a cash advance is to plan – have emergency reserves, and make sure to live within their means.
"People need to be careful how they manage their money," Jones says. "It makes a big difference."
Editorial Disclaimer
The editorial content on this page is based solely on the objective assessment of our writers and is not driven by advertising dollars. It has not been provided or commissioned by the credit card issuers. However, we may receive compensation when you click on links to products from our partners.
In an emergency, when you have no other options to get the cash you need, then maybe —