Summary
Credit card ownership is rebounding, but remains far behind levels seen before the recession, and consumers with bad credit are the ones doing without plastic
The content on this page is accurate as of the posting date; however, some of our partner offers may have expired. Please review our list of best credit cards, or use our CardMatch™ tool to find cards matched to your needs.
Credit card ownership is rebounding, but remains far behind levels seen before the recession, and consumers with less-than-stellar credit are the ones going without plastic, according to new research from the Federal Reserve Bank of New York.
Card ownership – consumers with at least one card – was 61 percent in the second quarter, down from a pre-recession peak of 68 percent reached in the second quarter of 2008.  During the recession, ownership hit a low of 59 percent.
Despite reports of bankers opening their doors to subprime borrowers, people with low credit scores – less than 620 – are still much less likely to have cards.
"About half of those borrowers with subprime scores have credit cards now, compared with more than 60 percent in 2007," N.Y. Fed researchers wrote in a blog post analyzing the card market.
The analysis was released with the N.Y. Fed's quarterly look at consumer credit, the Household Debt and Credit Report. The numbers come from a panel of about 5 million consumer credit reports from the credit bureau Equifax, which the researchers track anonymously.
The report paints a picture of a credit card market still in recovery from the worst general credit crunch since the Great Depression. The recession set off a wave of card cancellations, concentrated in low-score consumers. Some were voluntary, by cardholders suddenly leery of debt. Others were involuntary when card issuers canceled the accounts of high-risk or defaulting borrowers.
Ripples from that wave of cancellations can still be seen in the data released Tuesday. Those effects, though, are lessening.
"Lower-credit-score borrowers, once squeezed out of the market and paying down debt, are beginning to recover their ability to access credit with newly opened cards," the researchers wrote.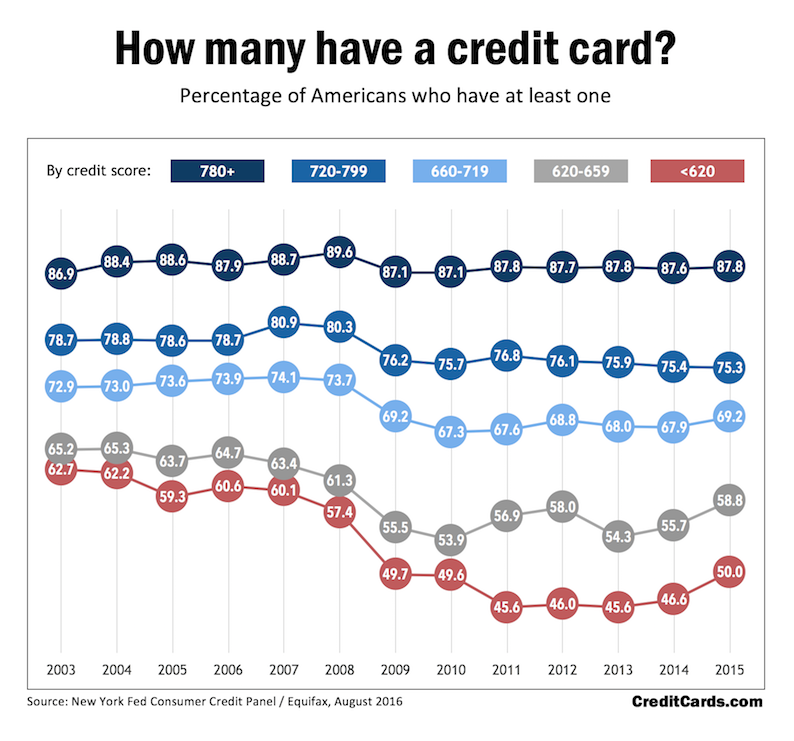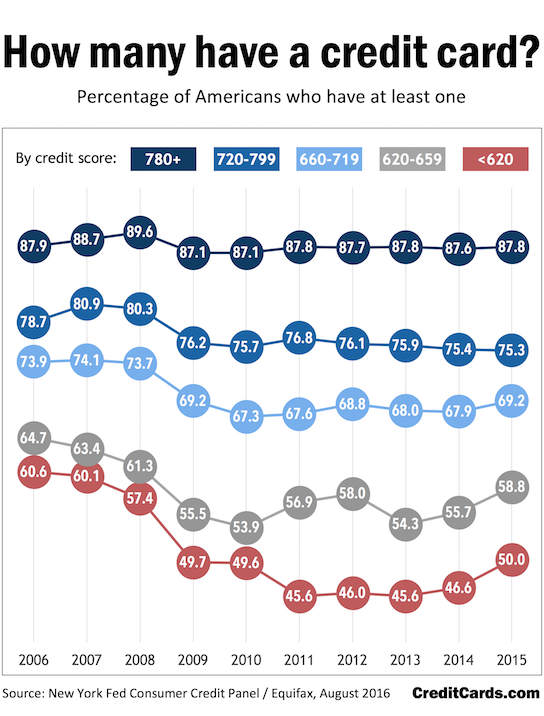 See related:New accounts rise for fifth straight year
Editorial Disclaimer
The editorial content on this page is based solely on the objective assessment of our writers and is not driven by advertising dollars. It has not been provided or commissioned by the credit card issuers. However, we may receive compensation when you click on links to products from our partners.