Summary
Balance transfer promotional rates are getting more generous, with more cards offering lengthy interest-free promotional periods, according to the 2015 Creditcards.com Balance Transfer Survey
The editorial content below is based solely on the objective assessment of our writers and is not driven by advertising dollars. However, we may receive compensation when you click on links to products from our partners. Learn more about our advertising policy.
The content on this page is accurate as of the posting date; however, some of the offers mentioned may have expired. Please see the bank's website for the most current version of card offers; and please review our list of best credit cards, or use our CardMatch™ tool to find cards matched to your needs.
Balance transfer promotional rates are getting more generous, with more cards offering lengthy interest-free promotional periods, according to the 2015
Creditcards.com Balance Transfer Survey
.
The survey found 85 of the 100 cards surveyed allow balance transfers, with 44 cards offering low APRs. Of those cards, 38 offer a promotional rate for at least 12 months, up from 33 cards in 2013. The number of cards offering a promotional period of 15 months or longer rose to 17 cards. Ten cards offered them the previous year.
Of the 44 cards with promotional low intro rates, 40 have a 0-percent interest rate while the other four have 4.99-13.90 percent interest rates.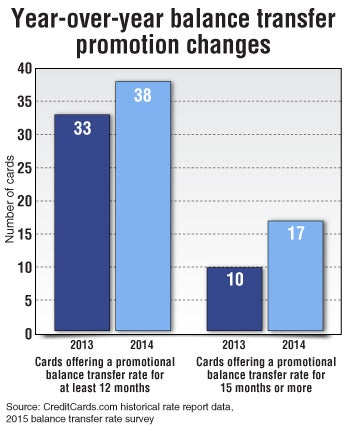 See related:
0-percent balance transfer payoff calculator
,
More infographics
To use the graphic on your site, use the following code:
 <center><a href="http://www.creditcards.com/credit-card-news/balance-transfer-promotional-changes-infographic-1701.php"><img alt="CreditCards.com infographic Balance transfer promotions" border="0″ src="http://www.creditcards.com/credit-card-news/images/balance-transfer-promos-2.jpg" /></a> </center>