Summary
About 7 percent of workers had wages garnished in 2013, and workers age 35-44 are most likely to endure that stressful and sometimes humiliating fate
The editorial content below is based solely on the objective assessment of our writers and is not driven by advertising dollars. However, we may receive compensation when you click on links to products from our partners. Learn more about our advertising policy.
The content on this page is accurate as of the posting date; however, some of the offers mentioned may have expired. Please see the bank's website for the most current version of card offers; and please review our list of best credit cards, or use our CardMatch™ tool to find cards matched to your needs.
study on garnishment
by payroll processor ADP shows.
The study found that more than 10 percent of employees aged 35-44 had their wages garnished. The total garnishment rate for all employees in the study was 7.2 percent in 2013, 7.2 percent in 2012 and 7.6 percent in 2011.
Child support is the leading cause of garnishment, followed by "other" debts — a broad category that includes garnishment for credit card debt. Tax levies and bankruptcy are the other leading causes of garnishment.
The percentage of employees with garnishment because of child support is at its peak of almost 6 percent for ages 35 to 44. ADP notes that the 35-44 age group experiences the most debt load, child rearing and divorce.
To get its data, ADP Research Institute analyzed anonymized payroll data from 2011-2013 of about 13 million employees.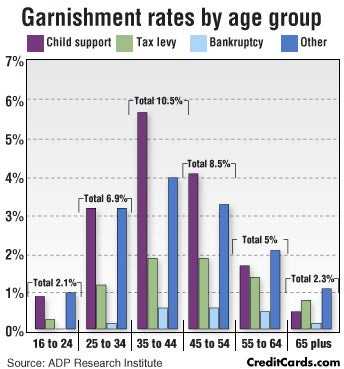 See related:
Video: the road to wage garnishment
,
More infographics
To use the graphic on your site, use the following code:
 <center><a href="https://www.creditcards.com/adp-garnishment-study-1701.php"><img alt="Study: 7.2 percent of workers have wages garnished" border="0″ src="https://www.creditcards.com/credit-card-news/images/garnishment-infographic.jpg" /></a> </center>
About 7 percent of workers had wages garnished in 2013, and workers age 35-44 are most likely to endure that stressful and sometimes humiliating fate, a groundbreaking