Summary
Fewer cardholders carried balances, while more cardholders paid in full each month in the second quarter of 2014, the American Bankers Association found
The editorial content below is based solely on the objective assessment of our writers and is not driven by advertising dollars. However, we may receive compensation when you click on links to products from our partners. Learn more about our advertising policy.
The content on this page is accurate as of the posting date; however, some of the offers mentioned may have expired. Please see the bank's website for the most current version of card offers; and please review our list of best credit cards, or use our CardMatch™ tool to find cards matched to your needs.
Fewer cardholders carried balances, while more cardholders paid in full each month in the second quarter of 2014, the
American Bankers Association found
.
"Transactors," or cardholders who don't carry a balance, were up 0.6 percent from the first quarter to the second quarter, while "revolvers," or those who carry balances, were down 1.5 percent, dropping to an all-time low in their share of accounts. Dormant accounts rose, up by 0.8 percent.
Argus Information and Advisory Services provided the data, which came from industry databases and government sources. Keybridge LLC analyzed the data, which was released Dec. 16, 2014.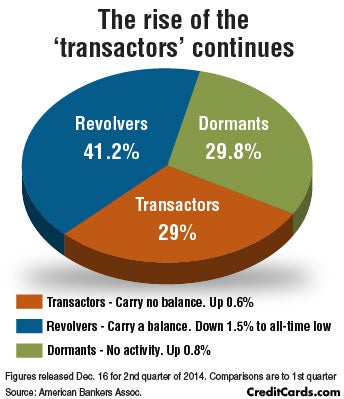 See related:
How credit cards impact your credit score
,
More infographics
To use the graphic on your site, use the following code:
 <center><a href="https://www.creditcards.com/credit-card-news/aba-study-revolvers-transactors-1701.php"><img alt="ABA study: 'Revolver' cardholders down, 'transactors' rise" border="0″ src="https://www.creditcards.com/credit-card-news/images/american-card-use.jpg" /></a> </center>