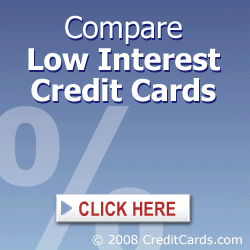 Many times, credit card companies offer a low "introductory" rate that will give you a low interest rate on a credit card for only a short period of time, usually 6 months. After that time the low introductory rate goes up to a higher fixed interest rate. The low introductory interest rates sometimes appear really good, but might actually cost you in the end. If you are planning to pay off the balance before the introductory rate expires, then credit cards with a low introductory APR or low interest rate can actually save you money.
However, if you plan to own a credit card for an extended period of time then a fixed low interest rate credit card might be right for you. With a fixed low APR credit card you know what your interest rate will be.
See also the best low interest credit cards to compare low APR credit card offers side by side.